Austin Lanier was diagnosed with Attention Deficit Hyperactive Disorder (ADHD) and placed on medication at the early age of 6 years old. He grew up with no sense of IDENTITY, believing the lie that he was a mistake and no one loved him the way he was. In attempt to compensate for lack of self confidence he became a class clown, and embraced his label as a 'trouble-maker' and 'bad kid' during his middle school years.
He tried to find fulfillment in soccer and took up a chance to play overseas in England, Scotland, and Wales by the time he was a high school freshman. However, even as a popular varsity athlete in high school Austin still faced an IDENTITY crisis which led to anxiety, depression, and drug-addiction to the point where he could no longer attend school and was forced to complete graduation thru online courses. With grades plummeted and soccer career out the window Austin was ready to give up on life itself.
At that rock bottom moment someone gave Austin a message that changed his life forever. That's why Austin has dedicated his life to sharing that same message to youth across the world to not only save them during their rock bottom moments, but help prevent them from getting there.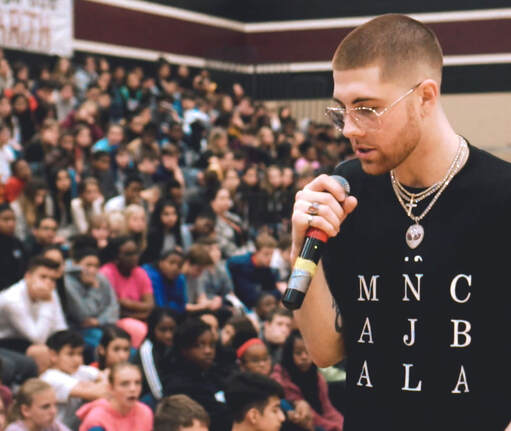 "The night before you came to our school, I wrote my suicide note and planned to kill myself the next day after saying bye to my friends. I just want you to know that you really impacted my life and helped me decide suicide is not the way to go. I've been struggling to find my identity for a year now. It's nice to know that I'm not alone. Every day is a battle, but because of your story I'm going to keep fighting."
Austin has done school assemblies across the world encouraging students to embrace their unique identity, never give up during difficult times, and make the right decisions in order to turn their dreams into reality just like he did. From playing soccer in foreign countries, to sharing the stage with some of the biggest names in the music industry he has never lost sight of what is most important... his PURPOSE.
His IDENTITY themed assembly can focus on a variety of topics ranging from:
- anti-bullying / social media
- peer pressure / anti-drugs
- mental health / suicide prevention
- standardized testing / good grades